Over the last 15 or so years, open innovation and technology scouting have become mainstays of corporate innovation strategy, as firms look to tap into great ideas from outside their own four walls. Often these efforts start out bespoke and ad hoc – scouts heading out each day to look for new technologies, like so many innovation hunter-gatherers. As these efforts get more sophisticated, these teams progress from just living off the land to (also) cultivating their own plots where they can – with diligence, forethought, and maybe some lucky weather – regularly harvest innovations.
In practice one of the best approaches to this tech harvesting model is building ongoing relationships with key innovation clusters. The Lux team recently participated in the Advanced Materials Pitch Day at one such cluster, start-up incubator Greentown Labs (GTL) – a fertile technology valley that's attracted a number of corporate tribes looking to till its rich innovation soil. The event featured sessions on materials for energy, industrial materials, and bio-based materials, with Lux presentations teeing up pitches from start-ups as well as some academics and GTL partners like BASF, DSM, and W.L. Gore.
Chloe Holzinger, Analyst on stage at GTL Advanced Materials Pitch Day
Lux Analyst, Chloe Holzinger kicked things off by describing the key role materials advances play in the ongoing progress in lithium-ion batteries. This battery technology powers all our consumer electronics as well as the burgeoning electric vehicle boom – and won the 2019 Nobel Prize in Chemistry for its trouble. Growing start-ups like Amprius, NanoOne, and Solid Power are pushing new material tech for anodes, cathodes, and electrolytes that can help keep advancing this technology.
Materials can also play a role in improving energy efficiency, as showcased by one pitching start-up,
Transaera, which is using metal-organic frameworks (MOFs) to improve efficiency of air conditioning by absorbing moisture from the air. While bringing MOF costs down will be critical to making this tech economically viable, this is a hot area for innovation – lots of companies are on the case.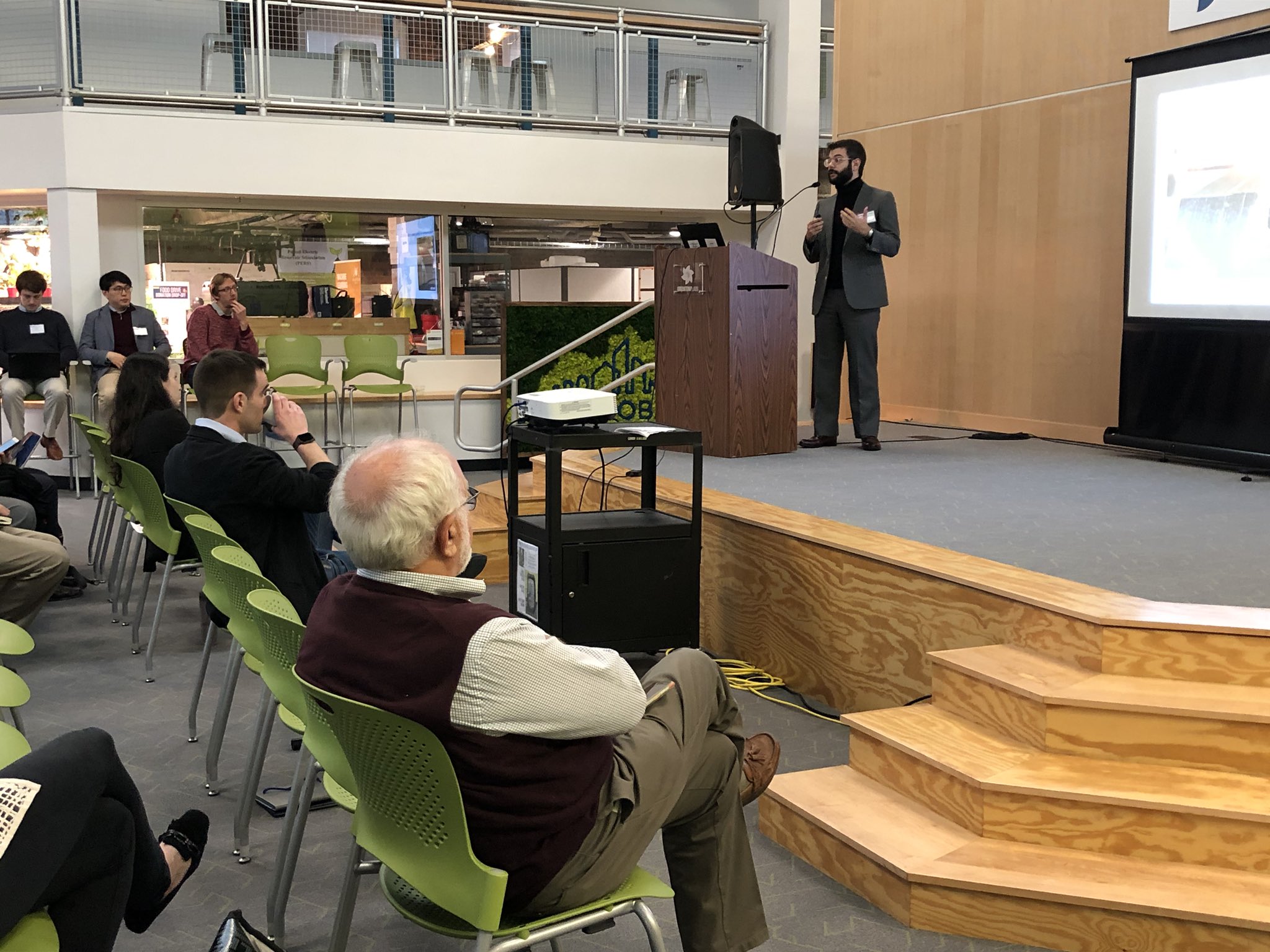 Anthony Schiavo, Senior Analyst, speaking to the industrial applications of advanced materials at GTL
Anthony Schiavo, Senior Analyst, from the Lux team then spoke about advanced materials for industrial applications, encouraging start-ups to narrow their focus, address bottom-line metrics, and align to existing business models in order to really blossom. Among the pitch companies, Boston Materials is already taking some key lessons to heart, with an approach to carbon fiber composites that combines milled fiber material from waste with virgin fiber to deliver on performance at lower cost, while slotting readily into the existing value chain. Watch to see if it can deliver in applications like sporting goods and automotive that may value the sustainability angle it brings.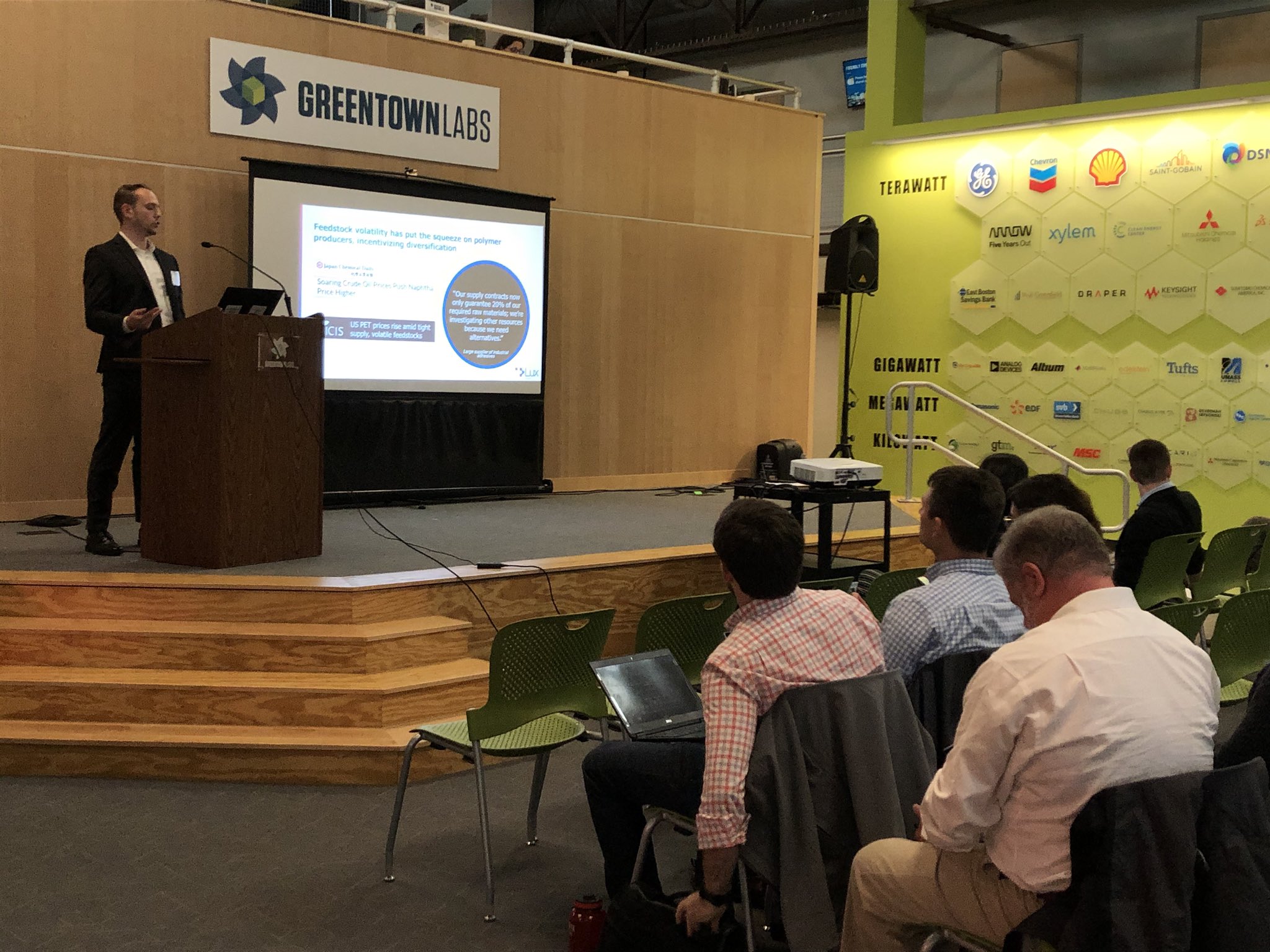 Session on bio-based and recycled materials led by Senior Research Associate, Charles Willard
Finally, speaking of sustainability, our Senior Research Associate, Charles Willard lead a session on bio-based and recycled materials – highlighting the importance of planting tech to address both feedstock volatility at the beginning of the materials value chain, and concerns about the fate of waste at its end. One notable approach came from a pair of start-ups, BioCellection and Conagen – combining the former's oxidative degradation of polyethylene waste with the latter's fermentation tech to convert those waste byproducts to valuable molecules like carotenoids, and moving toward a real circular economy.
Challenges from climate change to plastic waste will keep drawing eager entrepreneurs to sow the seeds of great ideas that address them. Tapping into ecosystems around innovation clusters like GTL will help put corporate innovation teams in position to help fertilizer these ideas and reap the produce of those that do bear fruit.
further reading
- Blog: Lux Research Partners With Greentown Labs
- Press Release: Lux Research Joins Greentown Labs as Gigawatt Partner
- Analyst Insight: Innovation Cluster Highlight: Greentown Labs (Members Only)
- Executive Summary: 20 for 20 Annual Report (Free Download)